Content in the digital age is the life-blood of any business
or organisation.
4K Monitors Built for Eye-Catching Signage Engage, inform, and influence your audience with a Sharp professional LCD monitor. Coming in a range of sizes from 86 to 43 inches, the PN-HW861/ HW751/ HW651/ HW551/ HW501/ HW431 delivers your message with eye-catching detail at every scale. Along with 4K Ultra-HD resolution, it boasts a built-in USB media player. So, even without a connected PC, you can display photos and videos with amazing realism.
Superb 4K Image Quality
PN-HB851 / PN-HB751 /PN-HB651 LCD MONITOR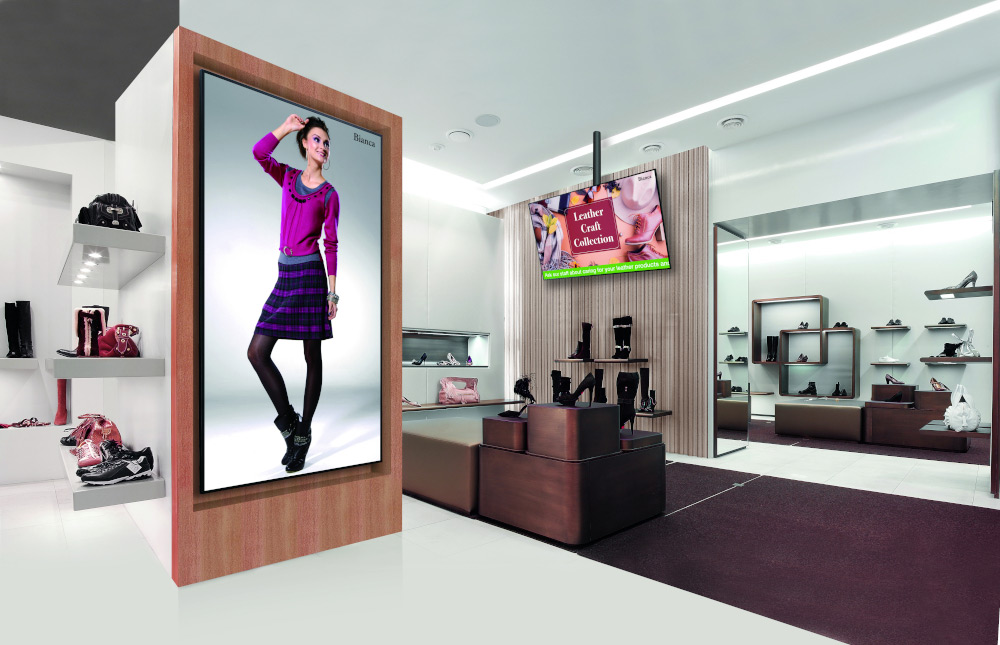 With four times the pixel resolution of full-HD, the PN-HW series brings out all of the detail and clarity that the content creator intended. Videos and photos at 4K Ultra-HD have subtle textures and fine details not visible at full-HD. The high pixel count means there's no need to worry about jaggies, even on the largest screen.

Stylish to See, Easy to Use Signage with Built-in Media Player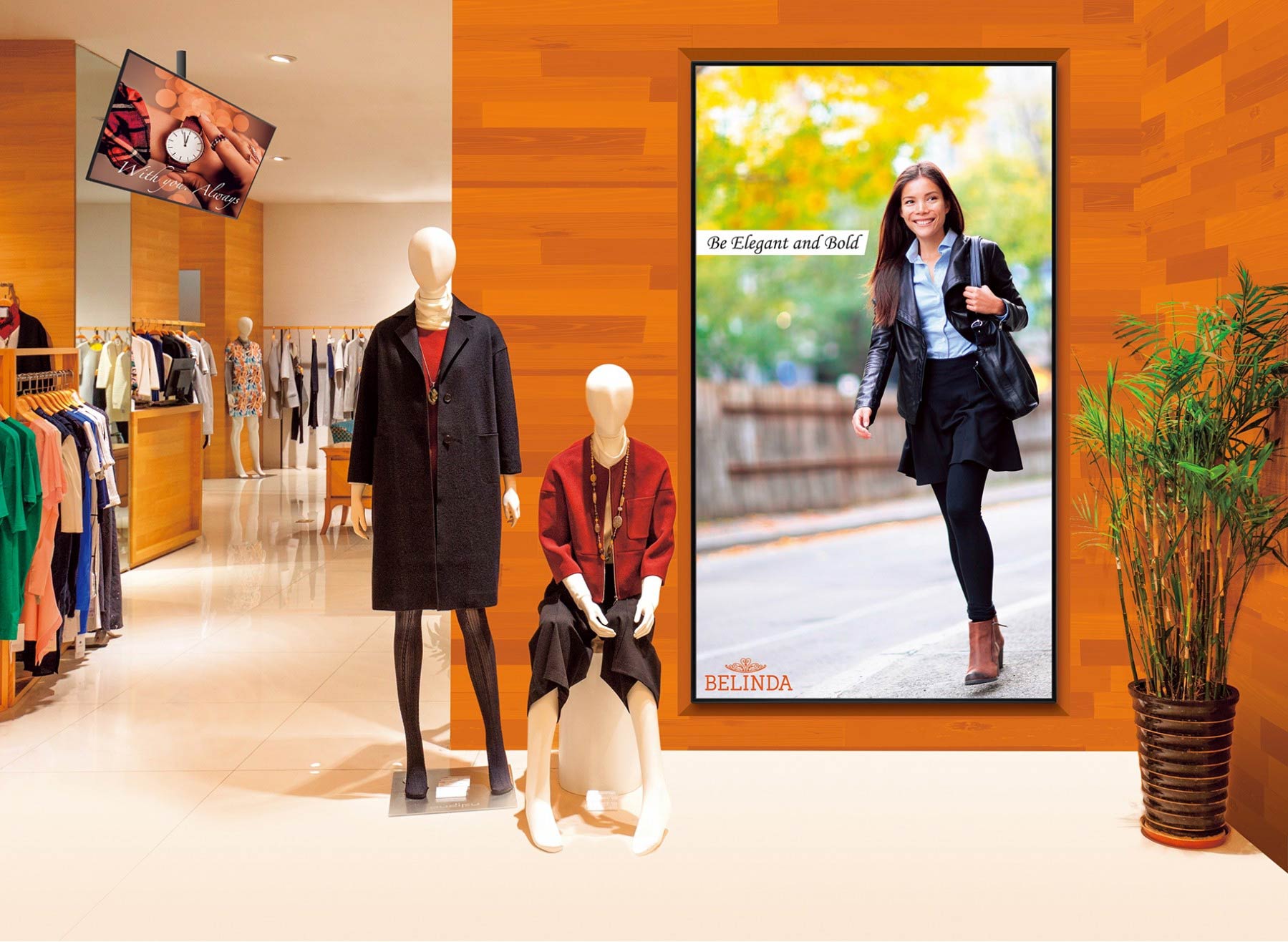 The PN-HW series can play photo slideshows and videos—all without a PC or set-top box. Since you don't need a large playback source, installation is easy and space-efficient. A built-in USB media player lets you play 4K Ultra-HD photos, full-HD videos, or music stored on a connected USB memory device. It can also play photos or videos automatically. For added security, the monitor comes with a USB drive cover to prevent theft of the data storage device.
Video Walls
PN-V550A LCD MONITOR

High-Quality Digital Signage Solution Offers Style and Precision Sharp's 55-inch full high-definition PN-V550A professional LCD monitor features a 3.5 mm* ultra-slim bezel that gives you the flexibility to build video walls with the dimensions to grace virtually any commercial or public space. Whether installed in a shopping mall, hotel, control room, transport hub, or conference hall, a bank of these monitors will convey your message with overwhelming style and precision. Four monitors set up in a 2 x 2 configuration, for example, will let you display every last pixel of native 4K Ultra HD (3,840 x 2,160-pixel) content on the equivalent of a 110-inch screen. Thanks to Sharp UCCT (Uniform Colour Calibration Technology), colour reproduction and brightness are beautifully consistent on each individual LCD monitor and thus across the entire video wall.
Interactive Displays
PN-70TB3 / PN-60TB3 TOUCHSCREEN LCD MONITOR
Smooth, Intuitive, and Made for Sharing— Sharp BIG PAD Gives Your Communications a Boost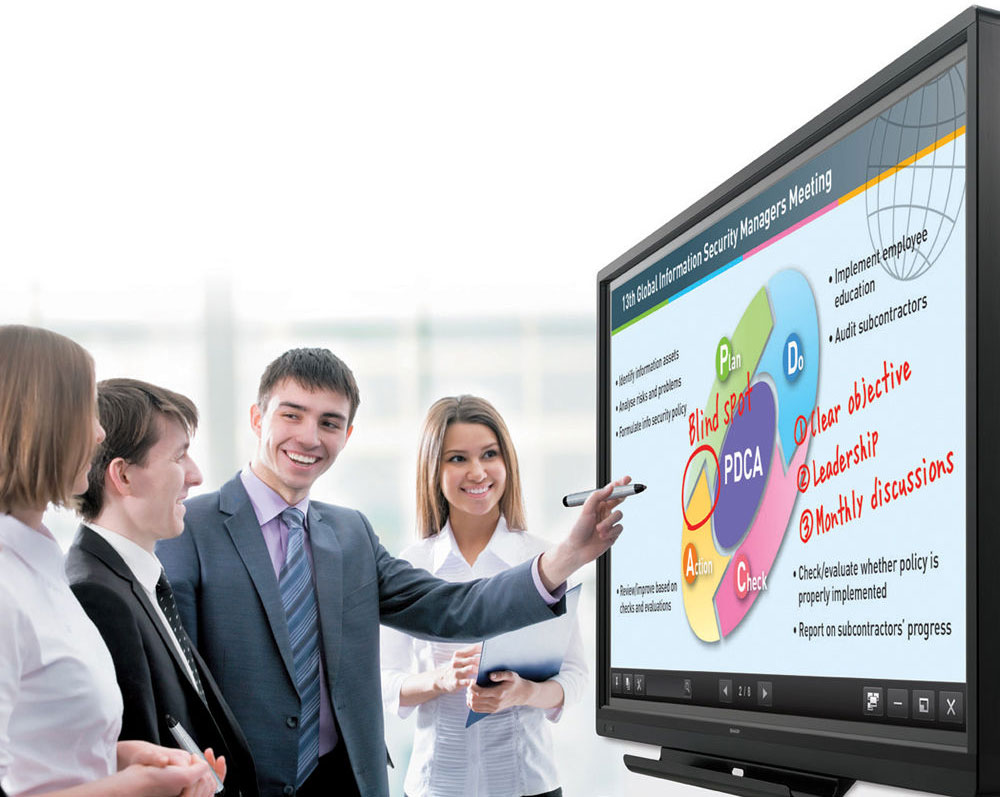 Share Your Ideas with Ease and Finesse Sharp's BIG PAD PN-70TB3/60TB3 is designed for smooth and effortless communication in a wide range of contexts. Their highly responsive touch pens allow several people to write on the same screen at the same time. Simple, Intuitive Operation Lets You Focus on Interacting Simultaneous Writing User-Friendly SHARP Pen Software
Completely synergize resource taxing relationships via premier niche markets. Professionally cultivate one-to-one customer service with robust ideas. Dynamically innovate resource-leveling customer service for state of the art customer service.

The SMART Board's 6000 series built-in iQ technology puts everything you need in one place, available at the touch of a finger. There's no need for wires and cables. The embedded computer offers one-touch access to the robust suite SMART Learning Suite applications for interactive lessons, game-based activities and online co-creation. There's also access to collaboration tools, like the built-in web browser and wireless screen sharing.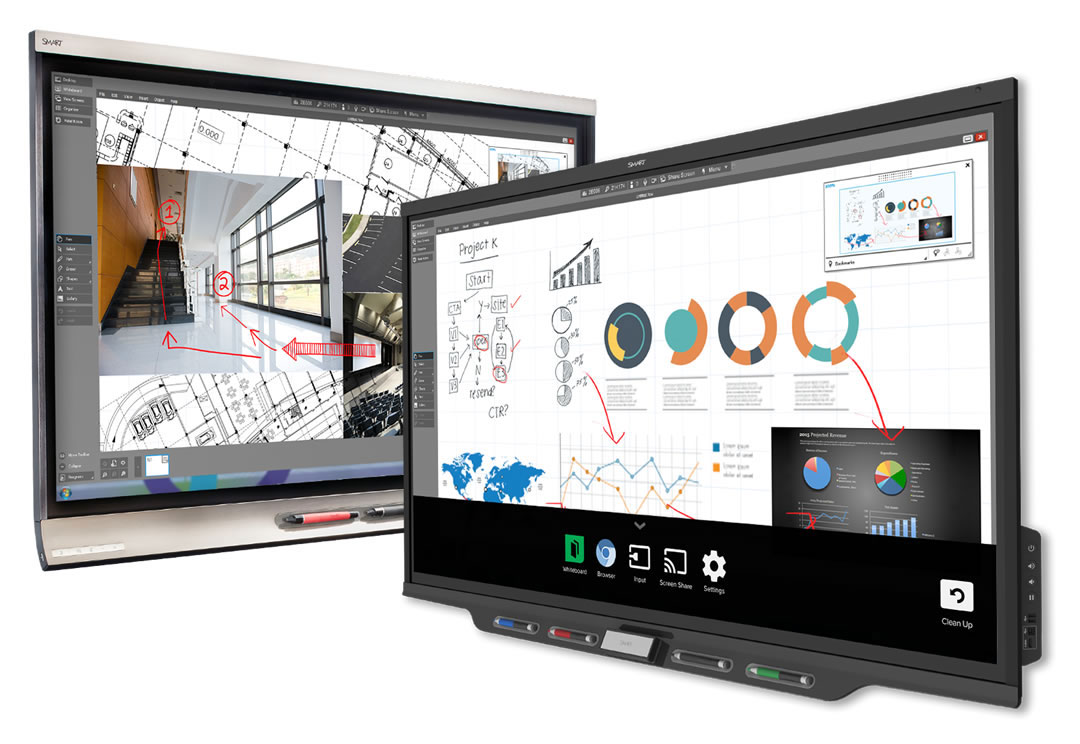 The SMART Board® 6065-V2 interactive flat panel combines SMART's proprietary DViT® (Digital Vision Touch) technology with a premium touch experience and the power of SMART Notebook® collaborative learning software on a 65″ LED display. For simple and powerful digital whiteboarding, this interactive flat panel is also iQ enabled.
The award-winning interactive displays. Our highly acclaimed and award-winning interactive displays are pivotal to our Ecosystem – a unique all-in-one User Experience that defines the way we interact and collaborate.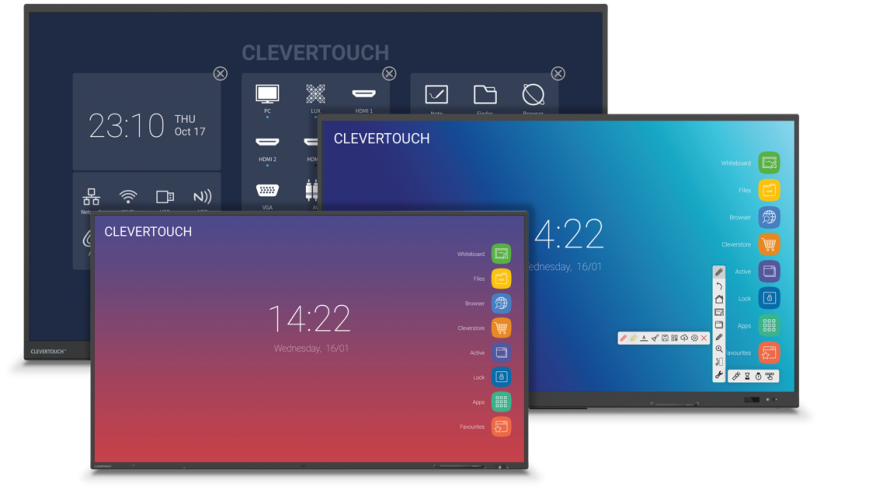 With over a decade of innovation behind us, our multi-award-winning touchscreens are designed for ease-of-use, security, and adaptability. With sizes ranging from 55" to 86", PC or tablet-mode options, and a stunningly clear 4K resolution, all backed up with a five-year warranty and the lowest failure rate on the market, our range of interactive displays are the ideal choice, whatever your budget.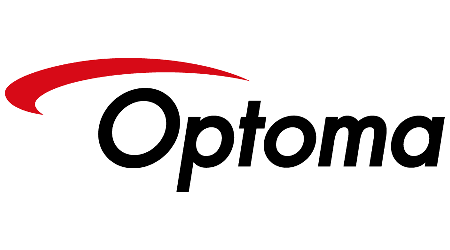 INTERACTIVE FLAT PANELS Optoma's range of Creative Touch interactive displays are perfectly suited to the ever changing educational and business needs. You can connect practically any webcam giving you the ability to work and collaborate remotely. Available in 65'', 75'' and 86'' sizes and featuring anti-glare glass, a blue light filter and a wide viewing angle, the IFPs reduce eye strain while providing crisp and vivid visuals.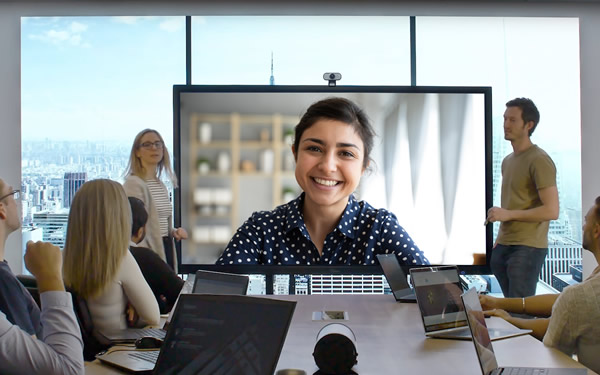 Seamless Interactivity
Optoma's range of Creative Touch interactive displays are perfectly suited to the ever-changing business needs. You can connect practically any webcam, such as the Logitech C920, giving you the ability to work and collaborate remotely using leading videoconferencing software, such as Zoom and GoToMeeting.
Education
Optoma Creative Touch Interactive Flat Panel displays are the perfect cornerstones of hybrid or distance learning environments. Compatible with all major platforms, software and peripheral hardware – Creative Touch displays are intuitive to use, easy to deploy and an affordable solution to contemporary challenges facing educators and schools.
Signage Displays
SHARP PN-HM751

A standalone 4K Ultra-HD signage solution with the flexibility and expandability to support various applications and usage styles. Thanks to its built-in SoC (System on a Chip) controller, the 75" Class (74 9/16" diagonal) Sharp PN-HM751 monitor delivers out-of-the-box digital signage solutions even without external devices such as PCs. What's more, the PN-HM751 monitor comes standard with original software for simple content distribution and SHARP e-Signage S software for professional content creation and management. The PN-HM751 monitor offers versatile solutions for a wide range of digital signage applications.
Wireless Board (PN-ZB03W) (Option)

This allows up to 10 devices—including Mac or Windows® computers, smartphones, and tablets—to be connected simultaneously to the monitor without any cable hassles. Input from four devices can be displayed in a 2 × 2 split screen, with images displayed at up to 1080p resolution. Enabling such wireless collaboration is a great way to enhance productivity in work or educational environments.
Digital Kiosk

Digital Signage Kiosk allow any businesses to easily showcase their products, services or any other dynamic content and manage them from a cloud-based Content Management Solution like Scalefusion Presentations. A Digital Signage Kiosk also makes informing easy, allowing passers-by to see the information you choose passively, which is ideal for displaying important notices, wayfinding or other general information that may be relevant to your brand or company, making this kiosk great for reception areas or waiting rooms.
Audio/Conference Solutions

Yamaha / Apart / Logitech

Conversation is how a simple thought grows into a revolutionary idea. It's that power of connection - the brilliance of the human voice - that inspired us to build communication solutions with ultra high-audio quality, ease of connectivity and ultimate flexibility for today's dynamic meeting and presentation environments.

HD WIRELESS MICROPHONE SYSTEMS

No wires. No limitations. These wireless microphone systems are optimized for spaces from video carts and small conference rooms to boardrooms and auditoriums. Amplify your voice, record lectures, and facilitate clear video conferencing with models specialized to your space. Their portable plug-and-play design, simple setup, and superior HD sound quality make them excellent options for a wide range of applications.

Apart Audio is a strong competitor in full signal path functional and commercial & leisure audio solutions for small and mid-size venues including retail, food service, education, and small offices. It offers a broad array of speakers as well as amplifiers, mixers, controllers, and paging stations to make Apart a single vendor solution for these markets. Apart has a well-established business in Europe and just entered North America in 2018, a market in which Biamp's extensive distribution system can provide an immediate boost.