Automated Storage Solutions
For more than 60 years the name Hänel has stood for high-quality products and innovative solutions for efficient intralogistics. Today we are one of the world's leading manufacturers of automated vertical lift systems and storage carousels for both industrial and office applications. Our range of high-tech automated solutions includes Hänel Rotomat® industrial and office carousels, the Hänel Lockomat® and the proven Hänel Lean-Lift® and Multi-Space® vertical storage systems. In addition to ergonomic design for optimized put and pick operations, Hänel systems have many advanced features that protect stored items and support inventory transparency for maximum efficiency. Vertical solutions can save up to 60% of your warehouse floor space and dramatically increase the pace of accessing and retrieving items from storage. Our specialists will be happy to develop a solution that meets your specific storage and intralogistics requirements. Contact us for more information and details.
1 / 5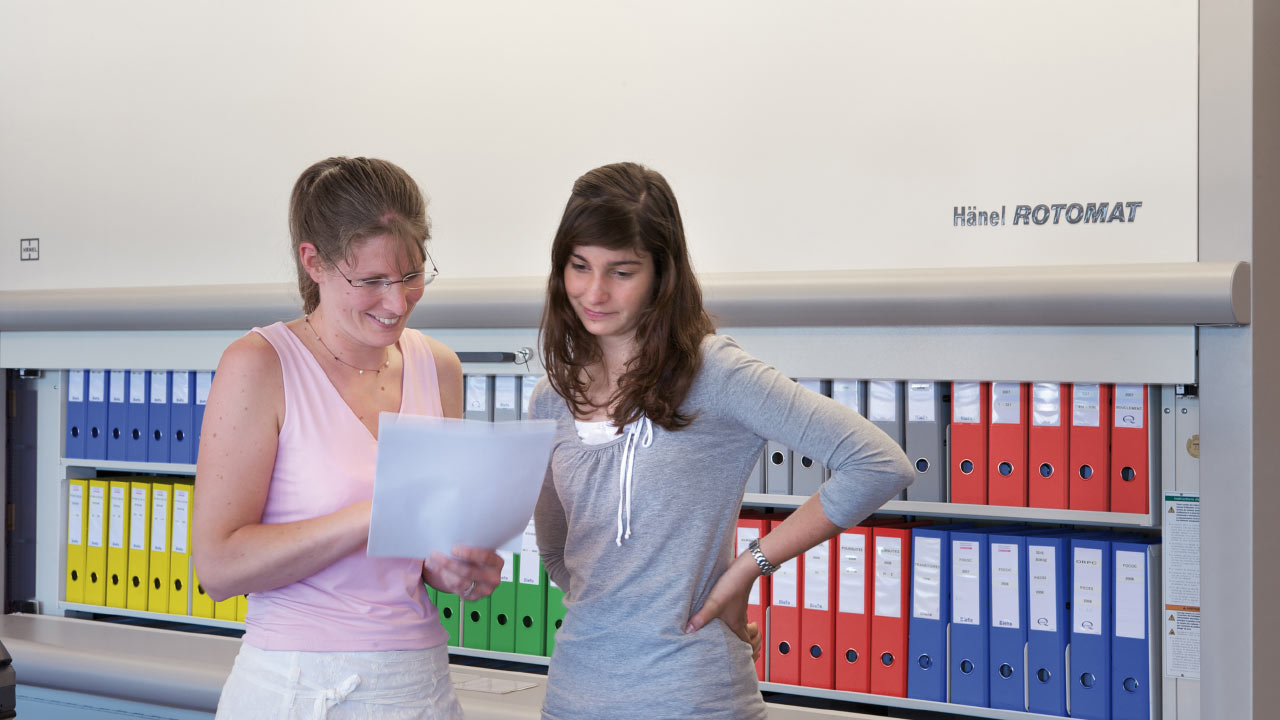 Hänel Rotomat® Office Carousels
2 / 5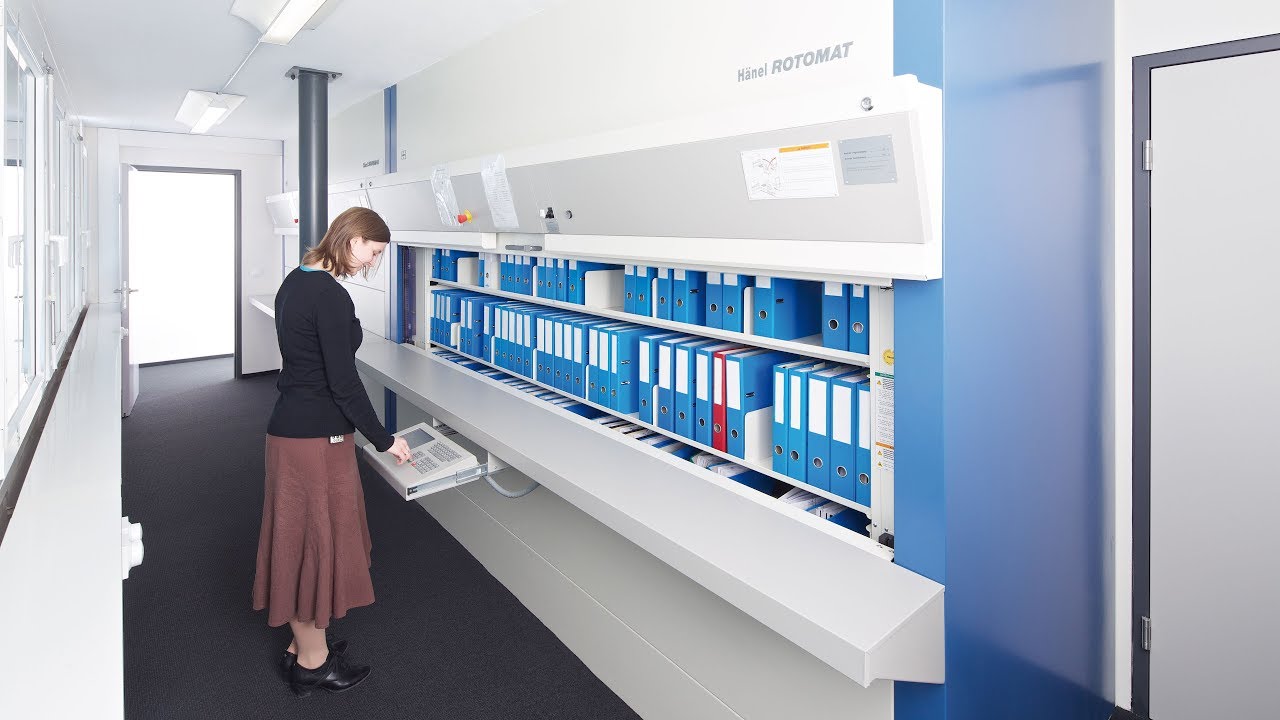 Hänel Rotomat® Office Carousels
3 / 5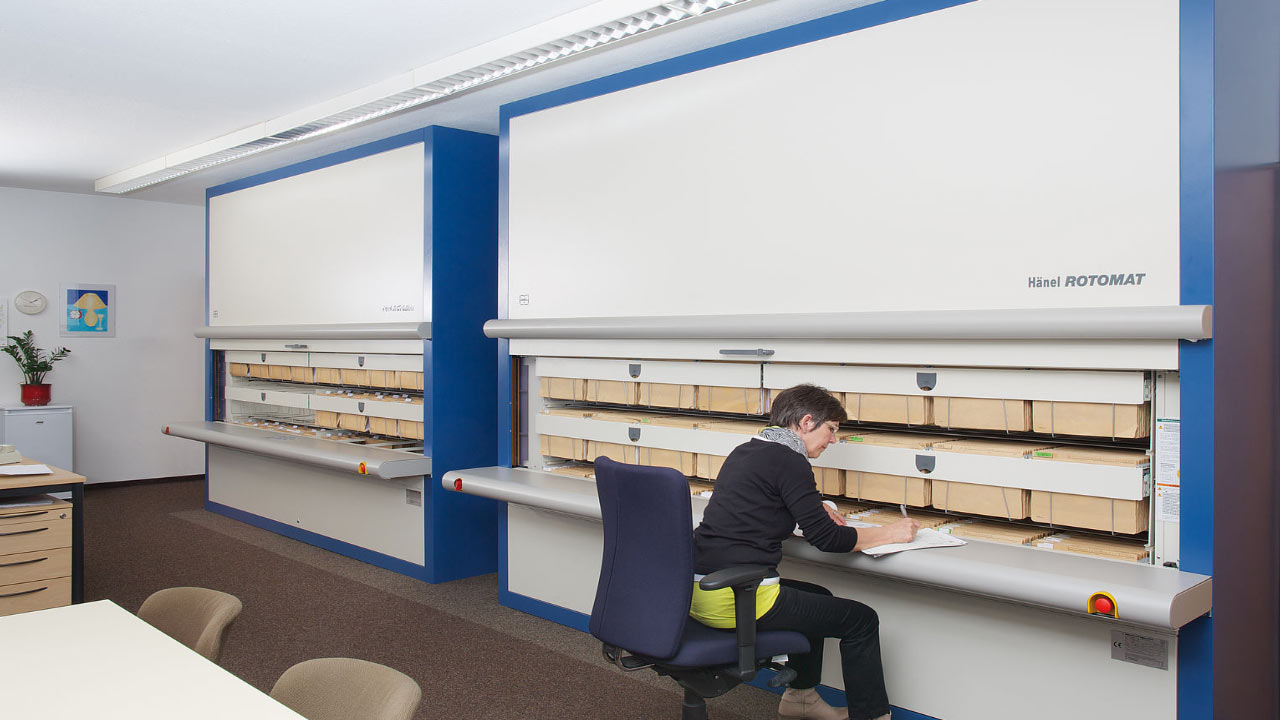 Hänel Rotomat® Office Carousels
4 / 5
Hänel Rotomat® Office Carousels
5 / 5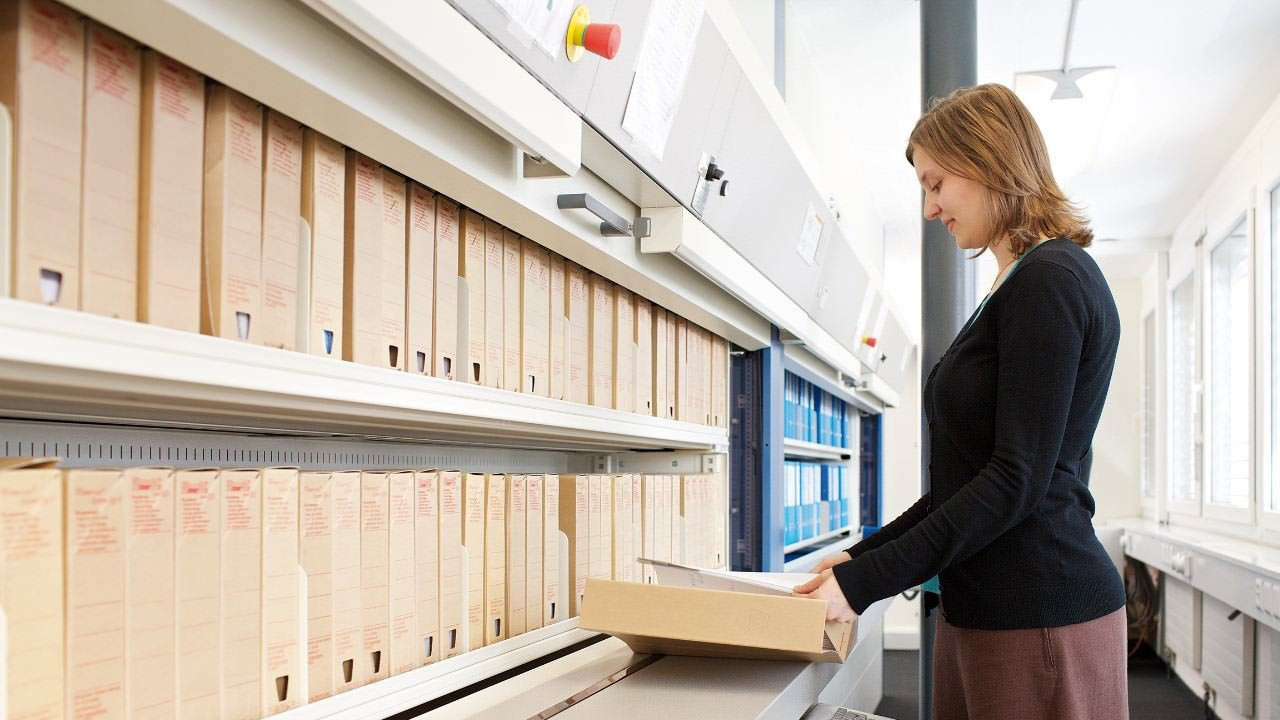 Hänel Rotomat® Office Carousels
Hänel Rotomat® Office Carousels | The optimal filing systems for office and administration

Quality and leading-edge technology 'Made by Hänel'. Today Rotomat® carousels and Hänel Lean-Lifts® are produced in 3 manufacturing plants and exported worldwide. Hänel has distributors in over 50 countries across the globe. Innovation and performance, dynamics and ideas, new technologies and team spirit have made Hänel one the leading providers of storage and organization systems. With the Hänel Rotomat® office carousel, we offer a flexible organization and filing system that adapts optimally to your needs.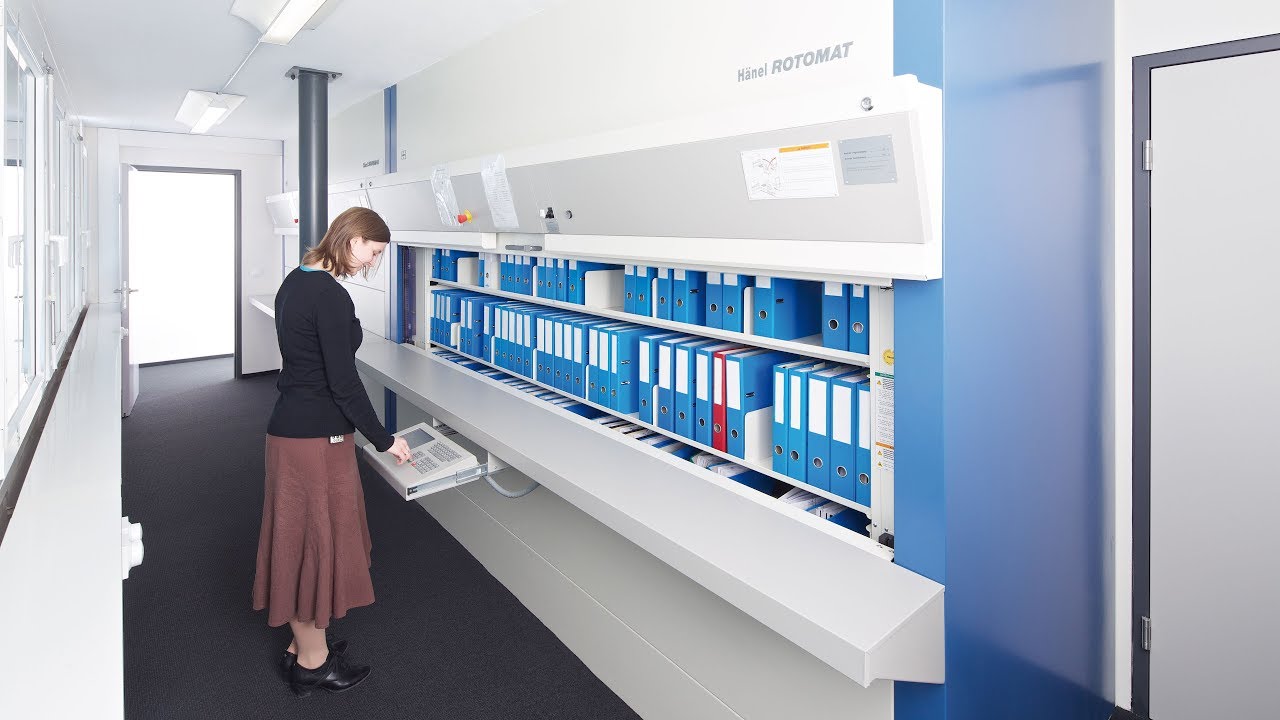 Work times slashed
The Rotomat® office carousel from Hänel brings the required files to the retrieval point in just a few seconds.
Up to 60% more storage capacity
The Rotomat® office carousel from Hänel makes use of the available room height, so its compact design creates up to 60 % more filing capacity. This means expensive office space is used more efficiently.
Ergonomics No more bending, ladder-climbing or walking long distances to search for and archive records. The required files are brought automatically to the optimum ergonomic retrieval height.
We are committed to environmental protection
It goes without saying that production at our three plants meets the latest environmental guidelines. Only environmentally friendly, recyclable materials are used. With the intelligent energy management feature Hänel EcoMode®, the Hänel office carousels can be switched to different standby modes. This allows energy consumption to be reduced to a minimum.
We are there for you worldwide
Hänel Lean-Lift®

The worldwide Hänel network is well organized. Our sales partners are always kept up to speed on innovations and trends in intralogistics by the dedicated export managers. Hänel specialists train all our partners in how to conduct service work and handle the technology of our products. This enables us to maintain the high quality we demand of our products and customer service worldwide. As one of the market leaders worldwide for vertical carousels and vertical lift modules, Hänel is continuously expanding its network.

Economy, efficiency and ecology – these are the demands that modern-day intralogistics must meet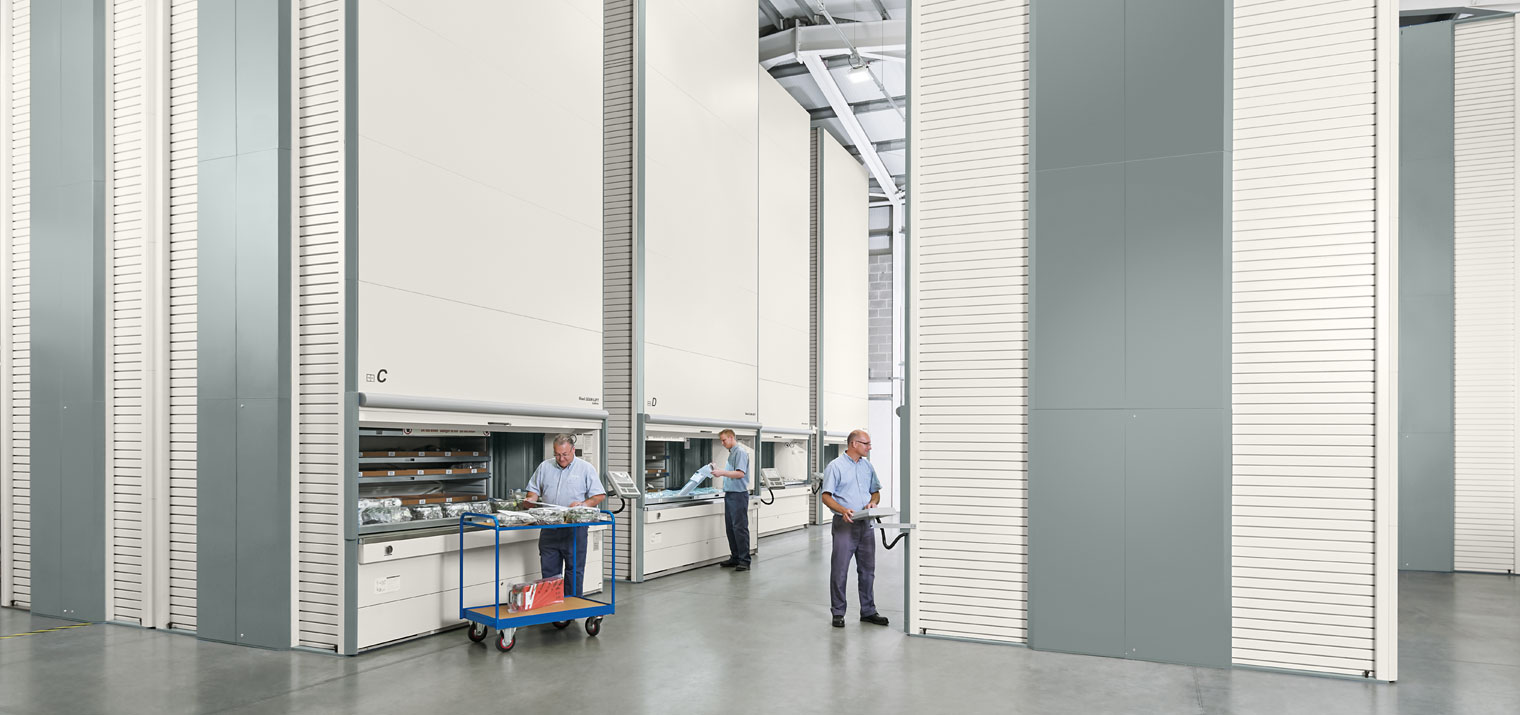 With the Hänel Lean-Lift® we offer you a first-class, high-tech system for storage organization and materials handling that saves time, storage space and costs, and enables a much more efficient workflow.

Over 60% more space

The Hänel Lean-Lift® uses the available room height – in a similar way to a high-bay warehouse or miniload system. Unlike these, however, it stores parts in height-optimized positions so that no space is lost. This produces maximum storage capacity on a minimal footprint. This in turn saves costs and helps to utilize the area dedicated to storage more economically.

Efficiency

Countless companies throughout the world use the Hänel Lean-Lift® to increase the cost-effectiveness of their warehousing and materials handling. Hänel also offers customized special features to get even more efficiency out of the Hänel Lean-Lift®. One highlight is the Hänel EcoDrive – efficient energy recovery with the Hänel Lean-Lift®.

Ergonomic and safe

The ergonomic design minimizes the physical strain for employees at work. Hänel goes far beyond the requirements of today's safety standards.

Fast and efficient

The Hänel Lean-Lift® brings the requested item automatically to the access area in seconds, where it can be retrieved at the optimum ergonomic height. Goods to man is the motto instead of man to goods. Access times are radically reduced and order-picking performance substantially improved.

Optimal parts management

The state-of-the-art Hänel microprocessor controllers can be used as stand-alone inventory management systems or communicate with customers' own data processing systems. An up-to-date overview of inventory is ensured at all times.

Uchida Mobile Storage Solutions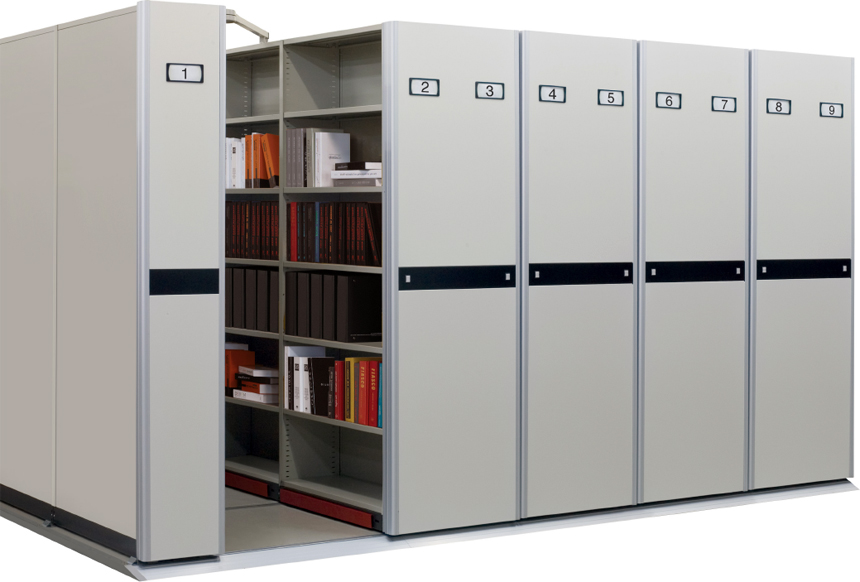 Uchida Yoko Co. Ltd. is one of the leading manufacture and trading company of the office, information and education/school related business in Japan. UchidaMK which is Uchida Yoko's subsidiary company is established in Malaysia in 1988 and has been manufacturing the reliable, safe and high-quality products for more than 20years. Uchida Mobile filing system is a modern solution to get more capacity for archive storage. This system produces an extra space capacity for archive storage. This system produces an extra space capacity up to 80% when compared by conventional static rack that requires a lot of aisels. Available in 3 operting models MANUAL. MECHANICAL and ELECTRICAL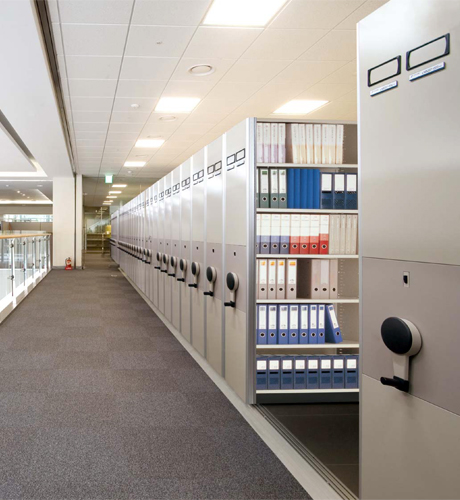 Features
A mobile rack increases storage space. Conventional stationary shelves lack in storage space due to unnecessary aisles. However, the mobile rack increases storage space through the use of storage space to the utmost by minimizing the aisle space. The mobile rack improves storage efficiency by 2~3 times through the most efficient use of limited space.
A mobile rack has good work efficiency. In the storage space of conventional stationary shelves,the work environment is not good. The mobile rack has good work efficiency and makes the environment better because storage space sharply increases in comparison with stationary shelves in case of storage in a limited area.
A mobile rack has various uses. The mobile rack has various and many uses such as product storage enabling the first-in and first-out of business entity, a slip of bank, a video of broadcasting station, and an X-ray film of hospital besides documents, books and data.
A mobile rack enables the centralized archive and management of information. The mobile rack intensively store and manage information to the utmost in a limited space. Accordingly, the work efficiency improves. Comprehensive management is enabled by the maximization of space efficiency and storage efficiency.
A mobile rack drastically reduces total cost. Office running cost increases every year due to the land price, construction cost, rent, building maintenance cost that increases from day to day. The cost of supplying with personnel, facility investment and the like due to the increase of space can be reduced by the use of mobile rack.

EUN GROUP STORAGE
Eun Mobile

EUN Group was established in 1974 in Beasain (Gipuzkoa, the Basque Country), specialising from its very outset in the development of classification and storage systems for space optimisation and management. Eun Group currently has four companies: EUN Sistemas S.L., EUN Madrid S.L., EUN México S.A. de C.V, and EUN Scandinavia located in Beasain (Gipuzkoa - Spain), Madrid (Spain), Mexico and Nrrköping (Sweden), respectively. The main activity has always focused on designing, manufacturing and installing products made to facilitate daily management with our filing and storage systems.The philosophy of EUN Group has always been characterized by constant supervision in the various phases of creation: survey, plan, manufacture, sales and installation, offering full service. Eun Mobile is a high-density storage system designed to release space where you need it most. Easy to install, easy to reconfigure and prepared for future expansion, Eun Mobile enables users to gain maximum storage capacity in the minimum floor space. This system creates aisle to the product, optimizing the available space in comparison with other traditional static systems. Eun Mobile has been designed to offer solutions for archiving, filing or goods storage.
Eun Tronic

Is a computerized and automated mobile storage system that duplicates the capacity of the spaces where it is installed. Eun Tronic allows, using Eun Logic management software and a computerised control panel, optimising management of the stored content and the wagons´ movement system. The interior of the system is equipped with automated shelves and mobile metal shelves. Eun Tronic has been designed to offer solutions for filing or goods storage, as well as exhibition areas in shops and sales points.
---